Great Expectations
A lot of projects fail from the start due to unrealistic expectations. Going into a project, first make sure you have the following or easy access to them:
Tools/Materials
Motivation
Projects tend to get expensive fast without owning the right tools. Avoid buying tools unless you absolutely need them or if you are convinced you will have a lot of similar projects in the future. Keep in mind that some project related expenses are unavoidable.
Motivation can come in many forms. Check out Pinterest, send images to a friend, or post pictures in online forums. Feedback will help you continue.
Arrived in terrible shape. The top head was replaced with a Prism FS1 Fiberskyn, the body was de-greased and cleaned as well as the rims, lugs, and tension rods.
Self Will
Expect setbacks. All setbacks help you as long as you see it through to the finish. A bonus is that you will know exactly what to avoid the next time around. Factor setbacks in before tackling a project.
Time
Tesla builds cars and now awesome looking semi-trucks (very exciting). Production is always slower than expected forecasts as things rarely work out like they look on paper. For you, this means doubling the projected tooling period.
Fail Safe
A fail-safe is exactly that. When things go wrong, what is your bailout plan? Every building has a fire evacuation plan mapped out or should. Map yours out and don't expect the government to stop by with a check.
Example Project (True Story)
A local shop had the snare drum pictured for sale. Everything looked pretty good from the exterior except for two missing tension rods. We grabbed it for $18 plus tax I believe. The failsafe was knowing we could sell the drum rims and hardware to break. At this point, we had the money and the time. On paper, we would replace the worn batter side head, clean the drum, replace the missing tension rods, and maybe swap out lugs recouping the cost by selling the existing ones.
Here is what actually happened!
One lug was missing a swivel nut and another lug was missing the rubber stopper which is needed to keep the nut from dropping out. Thanks to the awesomeness of this company, we were able to get the right parts after a few tries. This was a setback. We expected to add tension rods we had lying around as well as a new head. Instead, we had to wait for parts to arrive.
DON'T DO THIS
Snare drum parts come in a plethora of variations. The variations required us to do some measuring which we performed using the eyeball method of measurement. We tried upgrading the lugs with some awesome looking nickel-plated ones from the same company but our eyeball matching failed. Sending the parts back was a breeze but we definitely took a loss on shipping on both ends.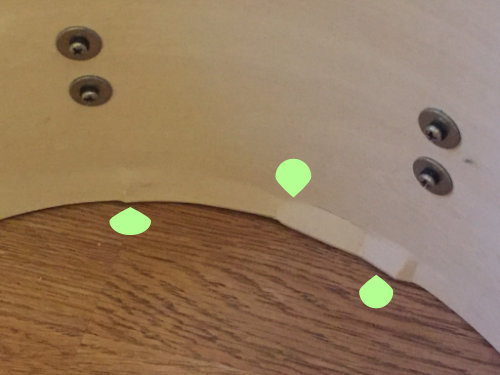 Failed a close inspection
Passed an exterior inspection
While waiting for the parts and failing at drilling aligned holes for the new lugs, we found out why the drum was $18. The wooden rim bead was cracked. This was only visible after removing the rim. The project was busted. A cracked rim means the head won't quite sit right.
What do we do now?
We had sunk a total of $40 to purchase the snare and parts to fix so we decided to keep it. The tension rods and lugs can always be repurposed as well as the snare strainer and butt. Moral of the story, expect the unexpected and be willing to adapt. Fail-safes work…..if you have one!
The snare is now a practice snare. As mentioned above, the Prism FS1 Fiberskyn head took on the characteristic of the cracked rim bead when tensioned. The snare plays fine but is unsaleable.