Customer Photos
Our feedback engine is directly tied to our customers. When you need a Prism Products review, you come here. We strive to offer the best mesh drum heads, accessories, and DIY materials needed to complete your next project. Enjoy personalized customer service, and let us do the research for you.
Here, the past and current customers of the Prism brand provide unbiased feedback on the products purchased and or the customer service they have received.
We encourage clients to take and submit high-quality photos for us to display! We share your story which we hope will inspire future visitors. Customers who submit photos will receive a coupon code for their next purchase as a thank you!
- Prism Customer gALLERY -
Bargain Bin Alert -14" NIB Snare
Great transaction! Phil took care of me! Will definitely buy from them again! A+ - Alesis Strike Snare Best Offer Accepted - B.Christman
"Here is a photo of my drum set (Ludwig Backbeat 5pc)...Love the mesh head(s) !!
They work beautifully with the triggers! Cindy W. 12/17/2018
Prism RR 3Ply Black
The set is Ludwig, 6 drums, 6 Sabien cymbals, "Blue Ice." I am a Veteran and I play with the new Disabled Vets band that we just started and are getting ready for the show here in Grand Junction, CO on Veteran's day. We plan on doing some shows for the Veteran's Art center soon as we can get one scheduled. Our group is Guitar, Bass, Drums, and a Great Female singer. Most of the guys are combat Vets and our Bass player is a disabled civilian. Our band represents Army, Navy, and Marine Corps, the only service we don't have is Air Force but we are still planning to add more pieces.

I want to buy two more Bass Drum Spur/Legs to keep for back up. I'm afraid if I lose one and don't have any backup I'm in trouble… these have been impossible to replace here in town. D. Cardoza - Prism Bass Drum Feet
A drummer friend of mine commented about the amount of cymbals....playing just like I would on an acoustic kit. Two crashes, 1 ride, 1 china, 1 splash, 1 stack/crusher and hi hats. On the far right is a low drop dub step sound effect and the far left is multiple things like timbale, extra bass drum, and electric sounds depending on what kit I have dialed in on the hand-sonic. Dream kit if you will.....Thanks again. the head is amazing. Extremely easy to play doubles on it more so then the stock Roland head. - Ray 9/14/17
12" 3Ply Kick Drum Mesh to complete the setup!!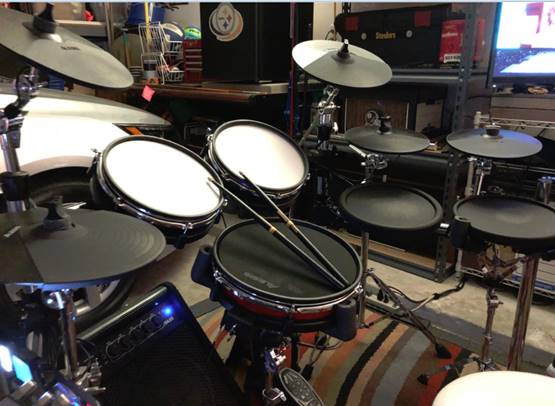 Alesis w/Prism 3 Ply RR White Mesh
Roland to Prism RR
3Ply Mesh Snare
The head looks and feels VERY durable and the triggering is WAY better with rolls and ghost notes - without any adjustments to the module.
The original kit is an Alesis DM10X kit. I then found & bought a couple 8" pads on eBay, and later found someone on Craigslist selling 5 more 8" pads and those 4 small triangle shaped cymbal pads. In order to hook everything up, you'll see the Alesis DM10 module as well as a DDrum I/O module (made by Alesis) which gives me a lot more inputs to spare! There's still three 8" pads to put somewhere. I'll probably just keep them, as spares. I only wish I realized how much of a difference the heads make before replacing them all with single ply Remo heads. The other heads will get replaced in time as funds permit. :-)
Matt P. 4/4/18
16" Tom to Kick Cradle Conversion
- B. Williams Submission (3Ply RR Prism)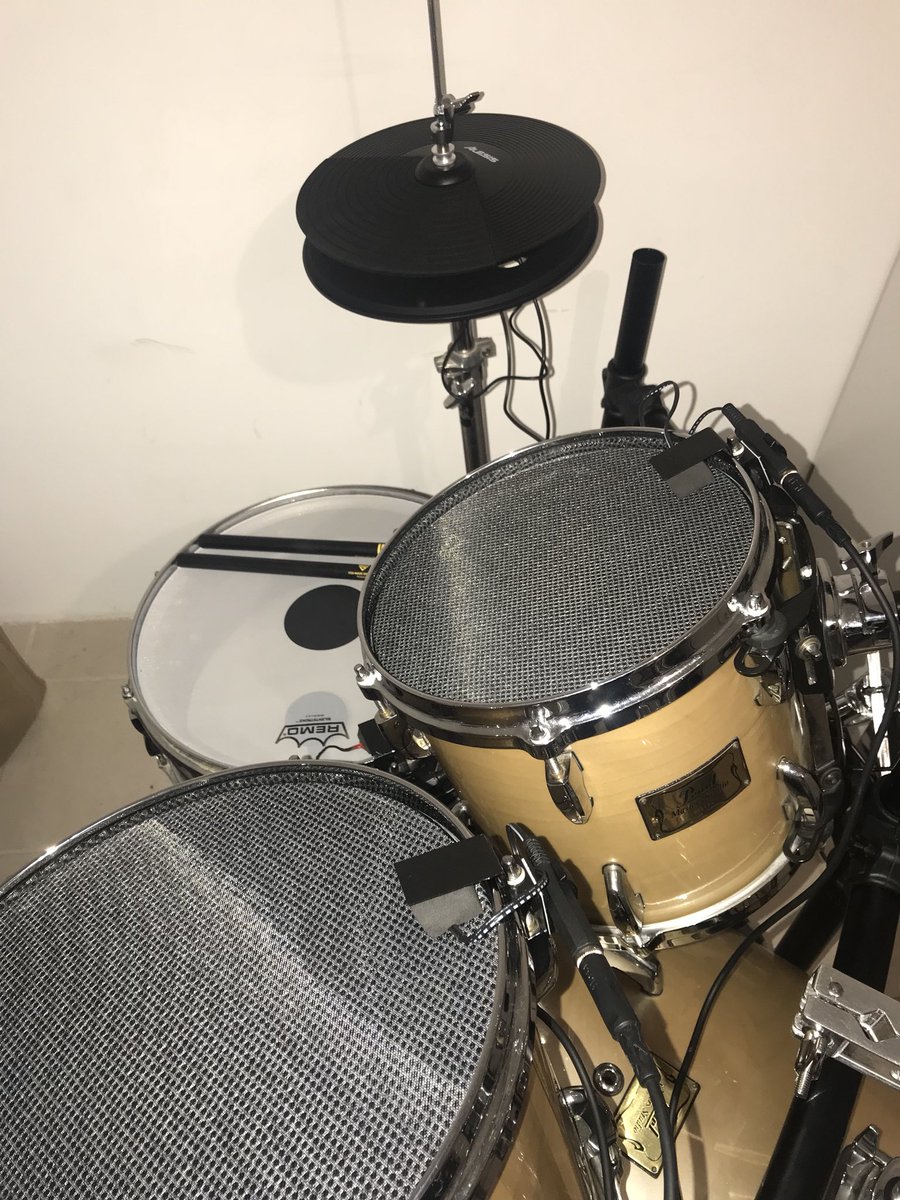 Hector Via Twitter @Prism_Products Sweet!!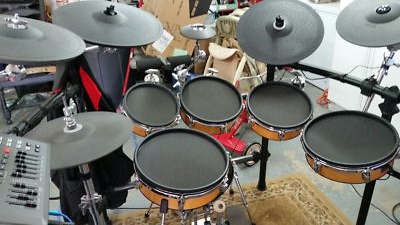 Roland TD Drums with Prism Black /R/R Mesh Drum Heads
Roland TD-12 Prism RR 3Ply Snare